Sí, hablo español.
Big City Rehab, Hometown Caring
At Arbor Health we know that it is best to recover close to home. That is why we offer both outpatient and inpatient physical therapy, occupational therapy, speech therapy and medical massage services at Morton Hospital. Our goal is to facilitate restoration of prior skills, acquisition of new skills, and maintenance of current functional skills. In addition, we help to establish adaptive strategies, determine assistive device needs and identify techniques to promote independence and safety.
Whether you are recovering from surgery, have an acute injury, a chronic ongoing condition or a life-changing event like a stroke, our staff can help you achieve your goals. Once we receive a referral from your primary healthcare provider, we will schedule you for an evaluation with the appropriate discipline; physical, occupational or speech therapy.
We provide comprehensive and compassionate evaluation, treatment, training, and education. Our approach is patient and family centered to support you, the patient, in your learning and recovery. Our services are available for school age, adolescent, adult and geriatric patients.
Services are available for:
Aquatic therapy
Balance and fall prevention
Chronic pain
Cognition and memory
Concussion rehab
Extremity pain and weakness
Hand therapy
Home safety and adaptation
Joint replacement rehab
Medical massage therapy
Neurologic rehabilitation e.g. stroke, traumatic brain injury, Parkinson's, etc.
Orthopedic rehabilitation
Pediatric therapy
Pelvic floor pain and incontinence
Pre-op prehabilitation
Return-to-work
Spine rehab
Splinting
Sports rehabilitation
Swallowing/dysphagia
Vestibular assessments
Voice and communication rehab
Wheelchair assessments
See below for more detailed information on the different therapy services we offer.
Our Team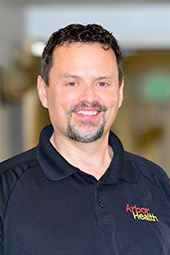 Edwin has been a Physical Therapist for over 33 years. Though he grew up in Ohio, he has spent much of his career in the Pacific Northwest. After completing his undergraduate work in Lincoln, Nebraska, he went on to Physical Therapy School at Loma Linda University. He later attended the University of Oregon in their graduate program in Exercise and Movement Science.
Edwin has worked in a variety of settings including Acute Care, Hospital based outpatient, Preventative Medicine and Skilled Nursing, where he went on to be a facility and then regional manager. He spent the next 10 years in outpatient Orthopedics, were he managed clinics in Oregon for a large outpatient group.
In 2010, he moved to Lincoln where he went to work as a lead therapist on the acute inpatient rehab unit at a large community hospital/trauma center and eventually became the Rehab Services Manager, overseeing the acute care, adult and pediatric outpatient and athletic training departments, covering the hospitals two campuses.
With the goal of moving closer to his granddaughters in Oregon, he moved to Washington State in 2017, providing direct patient care. His desire to return to leadership and love for Lewis County, lead him to accept the leadership position at Arbor Health—Morton Hospital in April of 2019. Edwin still sees patients as a clinical mentor, is a certified orthotic provider and in 2023 became a certified orthopedic manual therapy (COMT) through ASPIRE OMT institute.
In addition to work, he loves to be outside and active, hiking, and training for triathlons. In 2019, he completed his first half-marathon and the Grand Canyon Rim-to-Rim in a day with his wife. In 2022, he completed his first Ironman 70.3. He has three grown children living in the Pacific Northwest and loves being with his grandchildren. Ed is also actively involved with his church.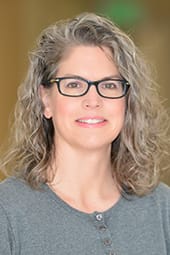 Chana earned her bachelor's degree in biology from Pacific Union College and her master's degree in physical therapy from Andrews University. During her 20-plus years as a physical therapist, she has worked in a variety of settings including outpatient orthopedics, inpatient acute, pulmonary rehabilitation, and home health. Her areas of expertise include orthopedic injuries and surgeries, vestibular disorders, and women's health.
Chana developed the pelvic floor physical therapy program at Arbor Health—Morton Hospital to bring this much needed service closer to home for the residents of East Lewis County. She became a Certified Orthopedic Manual Therapist (COMT) through ASPIRE OMT institute in 2023. She particularly enjoys the close relationships and teamwork demonstrated by the dynamic group of therapists at Arbor Health Morton Hospital, and their dedication to expanding the therapy services provided to the community.
With a desire to live in a small town and closer to family, Chana moved to Morton from Texas in 2013. When she is not working, she spends every spare minute with her husband and their children. She enjoys cooking, reading, gardening, skiing, hiking and mountain biking. She is actively involved in homeschooling, as well as church activities including children's programs and teaching.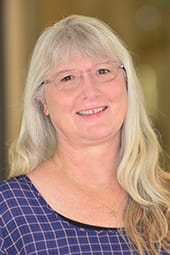 Debra received an Applied Science degree in the Arts of Physical Therapy in 1985. For the past 34 years, she has been working with adult orthopedics, aquatics, geriatrics, acute care, sports medicine, neurological conditions and balance deficits. In addition, she worked with pediatrics in the clinic setting as well as the school setting early in her career.
Debra has been a lifelong learner. She has taken multiple continuing education courses, staying up to date with the latest Physical therapy techniques and evidence-based care. She completed her CAPTCC (Certificate in Aquatic Physical Therapy Clinical Competency) certification in 2021 so that she can better serve the residents of East Lewis County at the therapy pool here at Arbor Health. Debi is passionate about being able to serve the people in her local community by providing excellent care, close to home.
Debra and her husband have lived locally for over 25 years. When not at work, she enjoys family time with her grandkids, camping, cooking, hiking, church activities, going to the beach and at times just hanging out on the couch binge watching her favorite TV programs.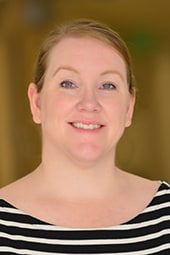 Karli Devoe was born and raised in Olympia, Wash. After completing her undergrad degree in Race Studies at The Evergreen State College she worked as a Spanish Medical Interpreter for several years. While working as an interpreter with Industrial Rehab clients, Karli concluded that there should be more Spanish-speaking providers in the healthcare field. She began to think about a career change and going back to school. Her younger sister was studying Occupational Therapy at Eastern Washington University and casually mentioned to Karli that she should consider OT, and the rest is history.
Karli earned her Master's in Occupational Therapy from EWU and has been a practicing occupational therapist for the past four years. Much of her experience has been working with skilled nursing rehab patients but she has also spent time working in Home Health, Industrial Rehab, Hand Therapy, Acute Care and Pediatric Rehab.
Karli recently married in a tiny ceremony on her parents' back deck, officiated by her father. She and her husband, Perry, just moved to Packwood in the Spring of 2020 and they are very excited to hike, camp, and explore the area.
Karli is very happy to part of Arbor Health's awesome rehab team!
Kaylee earned her associate degree as an Occupational Therapy Assistant from the Renton-based PIMA Medical Institute in 2015. While earning her degree, she completed fieldwork in hand therapy, industrial rehabilitation and pediatrics. Kaylee specializes in geriatrics and spent the last seven years prior to coming to Arbor Health primarily working in a skilled nursing facility where she treated a variety of orthopedic and neurological disorders. Kaylee enjoys client-centered therapy, integrating patients' hobbies and interests into their recovery, making therapy enjoyable while increasing their independence in daily activities. As a member of the National Board of Occupational Therapy and Washington Occupational Therapy Association, she continues to learn new and improved techniques to reduce pain while increasing function.

During her free time, she enjoys spending time with her husband and her two children. Kaylee can likely be found at the baseball field or a basketball game watching her children do what they love. She also enjoys tending to her vegetable garden, cooking and hanging out with her three German shepherds.

Kaylee is a Lewis County native, raised in Mossyrock. She is excited to provide services to her community at Arbor Health.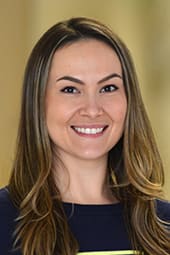 Lacey Ross earned her Bachelor's Degree in Exercise Science from Eastern Washington University (EWU) in 2008 and her Doctor of Physical Therapy Degree from EWU graduating in 2011. She spent her first year working at an inpatient rehab facility (stroke unit lead), and then moved back to the west side of the state and into the outpatient physical therapy setting. In 2018, Lacey became a board-certified orthopedic specialist with the APTA. After 10 years working in the Centralia area, she and her family made the move back to Mossyrock where she was born and raised. She is excited to be back in this community and to be working at Arbor Health!
Lacey enjoys the variety of diagnoses she gets to see in an outpatient setting. She was previously in an office that was closely related to an orthopedic surgery center and enjoys helping people navigate pre-operative and post-operative rehabilitation. Lacey is excited to be able to provide sports rehabilitation here at Arbor Health; getting student athletes back to their activities, and helping adults stay active at all ages is what she especially enjoys. She just completed her ImPACT Trained Physical Therapist (IPTP) credential and will be working with local schools and student athletes to provide pre- and post-concussion screening and treatment services.
When she is not working, Lacey spends her time with her husband, their two young children, and her dog, Bailey. She enjoys running/weightlifting, hiking and being outdoors, gardening, reading, and crafting/knitting. She and her husband are involved in coaching youth sports, and this keeps the family very active and busy. In 2022, Lacey and her husband completed one of their bucket list items by finishing the New York City Marathon.
Physical Therapy
Physical therapy (PT) helps reduce pain and improve or restore your physical function, mobility, and fitness level.
It assists with any of the conditions listed:
Pain
Incontinence
Tendon or ligament problems
Osteoarthritis
Post joint replacements and other orthopedic surgeries
Balance deficits
Weakness
Limited mobility
Occupational Therapy
Occupational therapy (OT) helps with activities of daily living (ADL) such as bathing, dressing, grooming and feeding. High level functional skills are also addressed and include: meal preparation, money management, shopping, community navigation, household chores and school- or job-related skills.
Occupational therapy assists with any of the conditions listed:
Pain
Limited mobility
Weakness
Osteoarthritis
Post joint replacements and other orthopedic surgeries
Cognitive deficits
Poor endurance
Tendon and ligament problems
Speech-Language Therapy
Speech therapy (ST) helps with communication, thinking skills, and swallowing. Skills include those needed at home, in the community, at work, and at school.
Speech therapy assists with any of the conditions listed:
Voice disorders
Fluency (stuttering)
Difficulty chewing and swallowing
Fiberoptic Endoscopic Evaluation of Swallow (FEES)
Disorders of speech
Cognitive deficits, e.g. difficulty with memory, concentration, problem solving, etc.
Difficulty with language which includes reading, writing, math, listening and understanding, and word finding
Medical Massage
Medical Massage is an outcome-based treatment conducted by pressing, rubbing and manipulating skin, muscles, tendons and ligaments. Massage may range from a light touch to deep pressure, depending on the need.
Medical Massage differs from spa massage in that medical massage therapists use a broader set of therapies for muscle health and recovery. In addition, medical massage therapists provide a targeted plan for treatment along with recommendations for a series of timed visits versus a periodic spa visit.
Medical massage is often used to:
Manage pain
Reduce inflammation
Improve circulation
Relieve nerve compression
Increase flexibility
Facilitate recovery after exercise or activity
Custom Foot Orthotics
Arbor Health Rehabilitation is a certified provider for Sole Supports. Find out more with the following:
Contact us
Sí, hablo español.
Our rehabilitation services team is dedicated to continually expand the care that we provide for you. Our therapists can personalize your therapy program to meet your individual needs. We are here to help you return to work, to your daily activities and to the things you love doing the most.
Rehabilitation Services
360.496.3593
Office Hours of Operation:
7 a.m. to 5:30 p.m.
Monday through Friday