More than 85 years ago, Morton General Hospital, as it was called back then, was opened to serve the healthcare needs of the hard-working settlers of East Lewis County. The goal was to care for those whose worked in the timber industry and helped build the Pacific Northwest.
The hospital was originally started in 1937. The 11-bed facility was operated by Dr. C.B. Ritchie. Nurse Gladys Howlett and her family lived in one of two houses that were connected with a walkway. In addition to nursing care, Howlett was also responsible for preparing the patients' meals as well as washing the hospital's laundry.
In 1938, Dr. Ritchie was joined by Dr. Leonard Asmundson. Several years later, Dr. LeGrande Anderson purchased Dr. Ritchie's interests and formed a partnership with Dr. Asmundson. In 1946, Dr. Anderson purchased the hospital and operated it alone until Dr. Brandt Bede became co-owner in September of that year. Four years later, Dr. J. Arnold Wark replaced Dr. Anderson as co-owner.
Drs. Bede and Wark owned and operated the hospital jointly for 28 years. The partnership constructed a new hospital in 1952 to replace the 1930s facility.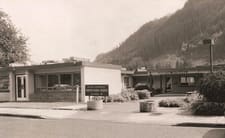 Over the generations to follow, the community grew and in 1978, a hospital district was formed to ensure the community would ensure its healthy future for generations more to follow. Lewis County Hospital District No. 1 (a municipal corporation) then purchased the privately owned hospital. The hospital district extends east to White Pass; west to Mayfield Lake, encompassing the towns of Mossyrock and Cinebar; and north to include Mineral.
Gradually, the hospital district facilities grew. In addition to Morton Hospital, the district also owns and operates the Randle Clinic located just 20 miles east on U.S. Highway 12, Riffe Medical Center, now known as Mossyrock Clinic, located just 12 miles west and Morton Clinic located on hospital grounds. At the time, each had their own distinct identity, yet sharing resources, staff, and a unified vision to provide critical health care access throughout rural Lewis County.
In 1992, the hospital district constructed a 30-bed Long Term Care Center addition to the hospital. The wing was later converted to serve as the hospital's patient rooms. The 1952-brick hospital structure served the community until 2006 when our new, modern facility was completed. The community celebrated the grand opening of the new hospital in January 2007. The new construction provided much-needed space for advancements in the imaging department, laboratory, cafeteria—essentially, we grew in every way but in patient-bed count.
This growth and change brought to our hospital and clinics state-of-the-art services, such as primary and women's care, diagnostic imaging with 3-dimensional digital mammography, and enhanced emergency services.
In January 2019, the district adopted a new parent name, Arbor Health, reflecting the philosophy that our network of care is truly better together, ensuring compassionate, professional healthcare right here at home. Our new parent name pays tribute to our timber industry and community: With a canopy formed by trees and with fall-themed colors of cranberry and gold that set ourselves distinct from the typical blue and green logos of other health care organizations.
Morton Hospital's status as a Critical Access Hospital is the result of a determination by the federal and state governments that access to the hospital is critical to the residents of East Lewis County. The designation, which dramatically influences Medicare and Medicaid's compensation rate, limits us to 25 acute-care beds. However, the number proves to be adequate and enables us to provide the compassionate, professional, and personalized care that we are so proud of.
At Arbor Health, we proudly care like crazy for our patients, our staff and our community.